Products from Alberta's Industrial Heartland feed industries around the world
Companies in the Heartland foster cultivation, connection and creation for Alberta and beyond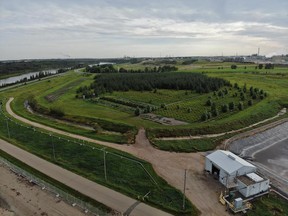 This year alone, an estimated 345 million people are facing acute food insecurity in 82 countries, according to the World Food Programme. And as food producers around the world grow crops to meet demand, many rely on fertilizers made in Alberta's Industrial Heartland.

"We're proud to supply growers with the crop nutrients they need to feed people and address the growing food security challenge our planet is facing," says Ted Sawchuk, general manager at the Nutrien Nitrogen Operations facility in Fort Saskatchewan, Alta.
Nutrien is one of the earliest tenants of Alberta's Industrial Heartland, a vast 582-square-kilometre of prime industrial land north of Edmonton.

The company produces and distributes over 27 million tonnes of potash, nitrogen and phosphate products for agricultural, industrial and feed customers worldwide.

"Fertilizers play a key role in global food production and are one tool farmers rely on to increase the amount of food they can grow — and to help keep their soil healthy for more productive crops," says Sawchuk.

Nutrien is just one of many leading companies in the Industrial Heartland who create products that feed supply chains in North America and around the world.

Another key example is Inter Pipeline, the only Canadian producer of polypropylene — a synthetic resin that is moulded into many plastic products. Inter Pipeline makes polypropylene using propane and serves both domestic and overseas markets.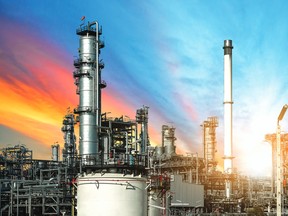 "They're doing it with a 65 per cent reduction in greenhouse gas (GHG) emissions relative to the average global polypropylene facility," says Mark Plamondon, executive director of Alberta's Industrial Heartland Association (AIHA). "It is a perfect example of leadership demonstrated by companies in the Industrial Heartland to create value-added products at a lower environmental footprint than elsewhere in the world."
Another important creator in Alberta's Industrial Heartland is Sherritt, who built the first facility in the Industrial Heartland region in 1954. The 95-year-old company produces critical mineral products — including finished nickel and cobalt— that can be used in batteries for electric vehicles and other applications.
Along with its leadership in creating value-added materials for global supply chains, the Industrial Heartland also aims to be a model for more ecologically responsible manufacturing.

Nutrien has been an essential part of this strategy, in part by reclaiming legacy phosphogypsum stacks. Phosphogypsum is a powdery by-product of the phosphate fertilizer production process.

Although Nutrien's site in Fort Saskatchewan — in operation for 40 years with 150 employees — has long since stopped phosphate fertilizer production, it has been researching alternative methods for reclaiming these stacks since 2005.

With help from the University of Alberta and Canadian Forest Service, the company said it discovered concentrated tree plantations could improve gypstack reclamation procedures. Those same tree plantations capture carbon dioxide and produce a concentrated woody biomass.
To that end, Nutrien and the Canadian Wood Fibre Centre collaborated to establish 45,000 trees on 20 hectares of reclaimed gypstacks from 2015 to 2022. Another 26,000 trees will be planted on remaining legacy gypstacks next spring.

At Nutrien's Redwater nitrogen site, about 30 kilometres northeast of Fort Saskatchewan, the site is working toward Nutrien's goal of reducing GHG emissions intensity by 30 per cent by 2030.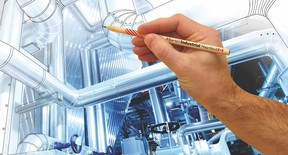 The Redwater facility uses carbon capture, utilization and storage (CCUS) technology to help meet this goal. In 2019, Nutrien began supplying carbon dioxide from Redwater to the Alberta Carbon Trunk Line, where it is sequestered deep underground and used for enhanced oil recovery in central Alberta.
"During these challenging times, continuing to produce the nutrients required to ensure future food production is critically important — and so is doing it in an environmentally responsible way," says Ron Jennings, Nutrien's Redwater general manager. "CCUS plays a key role in reducing GHG emissions."
On average, the Redwater site sends approximately 200,000 tonnes of carbon dioxide to the Alberta Carbon Trunk Line per year, and is expected to reach 300,000 tonnes per year in 2023.

"This is another excellent example of sustainability in the fertilizer industry," says Jennings, who leads a staff of about 450 employees and 100 contractors at the site, which started operations in 1968.

The Heartland has also established itself as a great place to do business.
Nutrien points to the region's top-notch educational institutions, talented workforce, world-class infrastructure, diversified industrial base and strong communities committed to responsible development.

"We're proud to be part of the fabric of the Heartland and a good neighbour to those who live and work here," says Ted Sawchuk. "It's an important part of what it looks like for us to help feed the future."

"We think the Heartland is a model of a jurisdiction, able to provide the opportunity for companies to lead both economically and environmentally," adds Mark Plamondon from AIHA.

Read the article here.