'New industrial revolution' in Alberta's Heartland region: Kenney
Politicians and industry executives gathered on Thursday, Sept. 15, for the Alberta Industrial Heartland Association's annual conference for a day complete with project updates, talk of the future, and networking.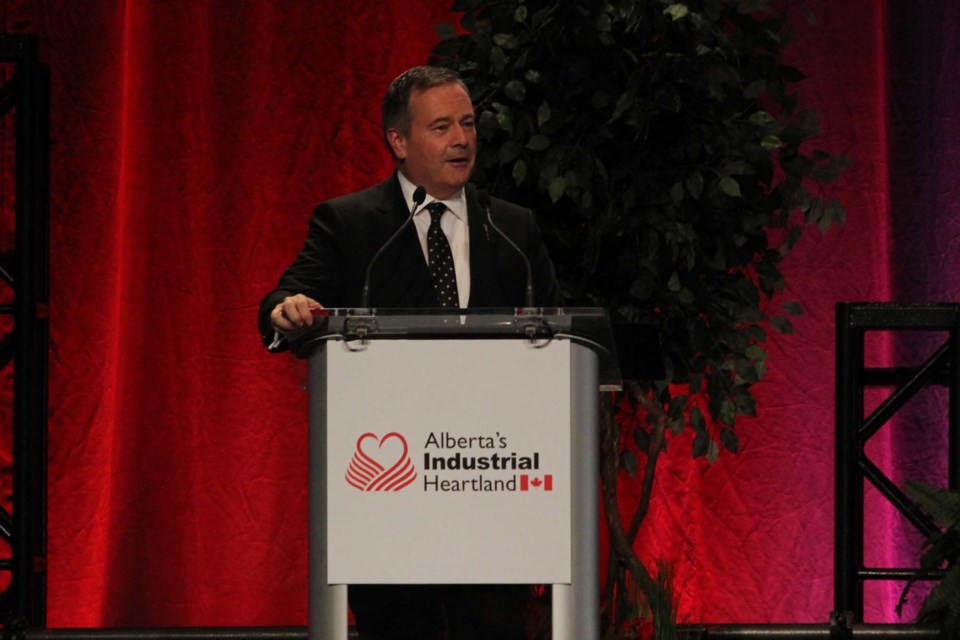 Politicians and industry executives took over the Edmonton Conference Centre on Thursday, Sept. 15, for the Alberta Industrial Heartland Association's (AIHA) annual conference for project updates, talk of the future, and networking.
The AIHA, founded in 1998, is a collaborative effort primarily between Fort Saskatchewan, Sturgeon County, Strathcona County, Lamont County, and Edmonton to attract and retain industry investment and operation in the region.
Premier Jason Kenney opened this year's conference with a 20-minute speech in which he recapped his government's business-friendly policy changes, industry accomplishments, and recent economic growth in the province.
"I was struck with the audacity of the vision that businesses, local governments, citizens, and other organizations have developed for deep and lasting economic renewal," Kenney said of his reaction after his first meeting with AIHA in 2018.
"You know what gets my attention — I think this is true for most leaders in government — people propose solutions, not just describe problems, but practical, concrete, well thought-out solutions."
The solutions proposed to him, Kenney said, became key parts of the UCP platform leading up to the 2019 election. Kenney provided an example where, when on a trip to Houston to meet with executives from Dow Chemical, "the head of upstream for Dow said to me, 'You know, we really appreciate that property tax break, but the problem is it doesn't apply to machinery and equipment.'"
"I picked up my phone right there, in the Dow headquarters in Houston. I called our minister of municipal affairs [Kaycee Madu] and I said, 'Apparently there was an oversight in our legislation. The [legislature] is in session. Please draft and introduce an amendment to the Municipal Government Act to apply those property tax breaks to [machinery and equipment], and get it through the legislature as quickly as possible.'"
"It was passed into law in five days," Kenney said.
Before stepping away from the podium, Kenney said "we are on the cusp of what I call a new industrial revolution for Alberta."
"After several tough years, and then COVID on top of it, it's time that we got a little bit of a jump in our step … for what we are achieving together. A lot more work yet to be done, but we are up to those challenges."
Kenney received a standing ovation from the crowd of more than 300.
Heartland project updates
Executives from Dow Chemical, Inter Pipeline, Shell, and CN Rail were on hand to give presentations on their companies' ongoing projects in the region.
Speaking for Dow Canada was the company's director of government affairs, Mike Burt, who gave a presentation on Dow's proposed project to retrofit and decarbonize their current gas-to-plastics facility in Fort Saskatchewan, which would be the first facility of its kind in the world, Burt said.
As part of the project, Burt said, Dow will be expanding the facility's polyethylene cracking capability, and doing so using hydrogen-based fuel.
The project, once and if completed, would allow Dow to triple the amount of polyethylene produced at the facility, Burt said. The project is still waiting for board and regulatory approval, but if all goes according to plan, Burt said, construction on phase one of two would begin as soon as 2023, and would be completed in 2027. Phase two would be completed by 2029-2020, he added.
The CEO of petrochemicals for Inter Pipeline, Todd Karran, also gave an update on the Heartland Petrochemical Complex located in Fort Saskatchewan.
The complex, which was first announced in 2019, began producing polypropylene through propane cracking this past June, Karran told the crowd.
Polypropylene is the second most produced plastic in the world, behind polyethylene.
"We have the function of being about 35 per cent more ecologically sound in terms of our footprint relative to North American competitors, 65 per cent better than the average on the global stage, and for these reasons there's a lot of interest in our product," Karran said.
"We're going to be converting about 22,000 barrels a day [of] propane, and that's going to translate into about 1.2 billion pounds of [polypropylene]," Karran said.
Work is still underway on another part of the complex, Karran said, as the propane dehydrogenation plant section of the facility is planned to be completed later this year.
Propane dehydrogenation is a process that converts propane into propylene, which is a type of hydrocarbon.
Hydrogen Hub
Sturgeon County Mayor Alanna Hnatiw gave one of the final project updates during the conference. Hnatiw serves as the chair for the Edmonton Region Hydrogen Hub, which she said is looking to begin a new phase of work.
"The Edmonton Region Hydrogen Hub is an alliance of all orders of government, Indigenous, academic, and economic development leaders working together to implement a regional hydrogen economy and make the Edmonton region, Alberta, and Canada, leaders in clean energy," Hnatiw began.
"The last year-and-a-half have consisted of building connections, credibility, and raising the profile of the conversation around hydrogen," she said. "The Hub has hosted many webinar series with thousands of people attending, with topics including [carbon capture, utilization, and storage;] hydrogen workforce; compression and pipelines; and building an entire country's value chain."
The Hub's primary focus since forming in April 2021, Hnatiw said, is finding solutions to technical and economic challenges in developing the region's hydrogen economy.
"We've listened to our stakeholders and researchers, and we're ready to build on the success and the knowledge that we've developed thus far," she said.
"We're going to have to start drilling down into the actual business cases in the region, applying the same research strength that we've used in technical analysis to understand project specific analysis, and quantify the investments required.
"We're looking to expand our program with workshops, networking events, informative communications, more webinars, and other tools aimed at informing and inspiring action."
This article was published in the St. Albert Gazette. Read the story here.